Recent Case Studies
Citizen Journalism – User Generated Content
ShareItMobile
www.shareitmobile.com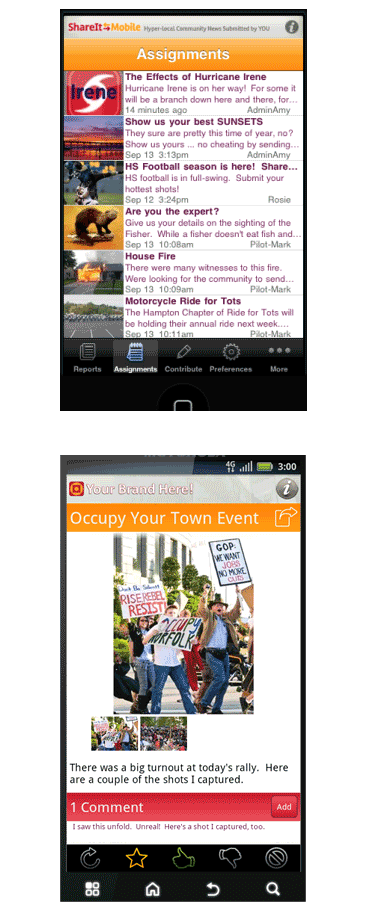 Description: ShareItMobile is a turnkey, dual-platform (mobile app and website) private-label hosted social media solution that automates and streamlines the aggregation and presentation of user-submitted photos, videos and commentary.
Benefits: ShareItMobile is the ideal solution for organizations that can benefit from providing a branded photo and video sharing experience to a large user group. ShareItMobile gives users a way to contribute, browse, share and rate photos, videos and commentary from their smartphones and web browsers under a unique branded image. The web-based management console lets the customer streamline the publishing and presentation of that content. The solution allows a user group/community to:
Contribute - photos, videos, on-the-scene experiences from their smartphones and website
Browse - in an enjoyable way to search and filter volumes of user generated content
Reviews – gives users immediate peer feedback to ID best user posts and encourage them to submit more content
Reward – badging for your best contributors
Assignments – issue call to action to recruit content by leveraging crowdsourcing to engage the users to capture late-breaking or topical photos and videos
Sharing – giving many users a way to share content that they find interesting via text, email, and Facebook and twitter.
Manage – easily manage the user content with a configurable web-based rules engine.
Use: The application was rolled out in 2011 and is available for use on iTunes and the Android Marketplace. ShareItMobile is the ideal solution for organizations, such as media companies, tourism bureaus, brand marketers, membership organization, affinity clubs, etc.
Location-Based Commerce
Geodelic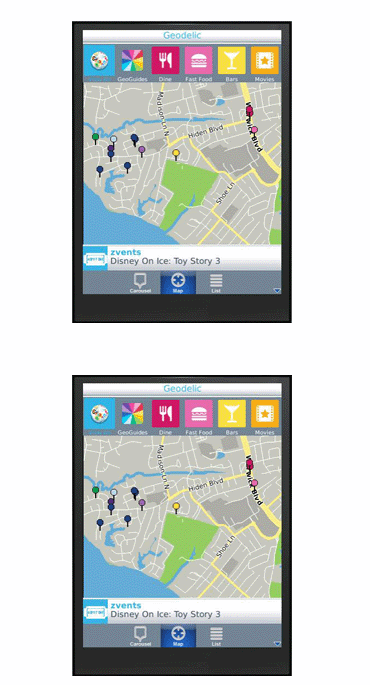 Description: Geodelic is a location-aware discovery application for iPhone, Android, and BlackBerry that aggregates location-based information and services about points of interests (POIs) based on the user's location. The information is populated based on context such as distance, relevance and interest, eliminating the need for the user to search for information about their surroundings. A user can quickly and easily filter information by categories (such as restaurants, coffee shops, travel spots, shopping, movies, banking, gas stations, etc), location (e.g., for what stores are in the mall), or brand (everything from Martha Stewart to Target).
The user can view the information in three views: the carousel view (an attractive 'swipeable' visual representation of nearby establishments and additional information when POIs are selected), the map view (shows the user where POIs are actually located on a map), and list view (a tabbed view so users can easily switch between the listings for nearby gas stations, banks, eateries, etc.). All of these views provide fully integrated calling information (click to call), driving directions (click to route), and user ratings. It also offers reviews from popular websites (like Citysearch, Yelp, and ZAGAT), movie show times and reviews, reservation options, flight status and baggage restrictions when flying.
The mobile application uses web services to retrieve information from the back-end services. Data is cached on-device and optimally displayed for mobile viewing.
Benefits: Allows users to instantly discover points of interest around them. Provides a platform for retail outlets to provide an "onsite" mobile experience, providing up-to-the-minute information to people nearby.
Use: This application has hundreds of thousands of users.
CRM
JumpForward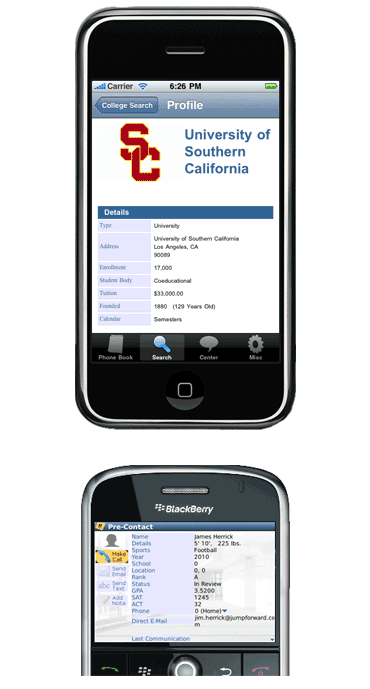 Description : JumpForward is a cutting-edge provider of an on-demand sports relationship management (SRM) solution that streamlines all forms of communication for athletes, college coaches, club coaches, and athletic organizations to automate NCAA compliance. JumpForward and the mobile application we developed for them were prominently featured on ABC's Shark Tank – they were the premiere company in the Season 1 Finale, and received the largest equity investment offer of the season. Their mobile application gives them the competitive edge in their industry. The JumpForward application is a full-featured Message Center and Communications Application. Data is stored on-device and synchronized with the back-end via web services. The main purpose of the application is to proactively track and prevent NCAA calling & texting recruiting violations in real-time. The application includes the following functionality:
Search and view athletes
View users phonebook of JumpForward contacts
View recent communications (voice, email, SMS)
View profile of a contact
Track all communications initiated within or outside of the application
Dozens of other features (e.g., news, expense tracking, broadcast message)
Benefits: Dramatically reduces college athletic departments' risk associated with the negative and damaging impact of phone call and text messaging NCAA recruiting violations. Instead of reacting to potential calling and texting violations, athletic departments are able to have a proactive compliance posture among its staff members. This proactive compliance posture dramatically reduces the risk of fines associated with calling and texting NCAA recruiting violations.
Web services are used to retrieve the information from the back-end & deliver
it to the devices, which happens in the background and is invisible to the users
Data is stored on-device for instant access when not in a cellular coverage area
Data is optimally organized and displayed on the mobile devices for easy viewing
and manipulation
Use: This application was rolled-out in 2009 and has tens of thousands of users.